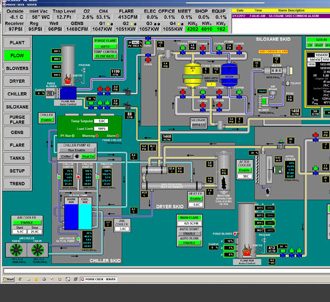 Enviro EMD is an authority on the process and control aspect of landfill gas flaring/management systems.
Enviro EMD seamlessly integrates the electrical, mechanical and PLC programming into a project-specific customized SCADA system where applicable. A typical SCADA system provides the operator with: user-friendly control graphics, data trending, alarm monitoring, remote data access, automatic report generation and much more.
A key advantage of an Enviro EMD system, is our ability to fully customize the programming to suit each project. With specific processing equipment and custom programming, an Enviro EMD gas management system suits the unique needs of each site.